Red corset and sexy stockings
Hey there guys, Amy returns once more with another Amy Daly porn scene today for you. And she went extra naughty and sexy for this shoot. And that would be an understatement to describe how hot this sexy woman looked today she is definitely one of the best shemale angels we have ever seen. She went to the mall and got her sights on a very nice and sexy lingerie set complete with a nice and sexy red corset. And she just had to have it and show it off in her next photo shoot. And that she did in this very scene. You can see her as she will appear all dressed in it and you can bet that she's all ready to provide some more entertainment for everyone. So sit back and enjoy the show guys.
As Amy Daly makes her entry to the set when the cameras start to roll, you can see that this hottie is very much serious about what the wants to do and she can't wait to do another one of her self pleasing sessions all dressed up in her superb outfit for you once more this day. She takes her spot on the sofa and plays around with her perky boobs in the beginning even though the corset is covering them. And then she starts to do what you came here to se her do, and that's to masturbate fast and hard for you guys. Watch her stroking her cock with a fury as she is very turned on. Enjoy her playing around with her cock once more everyone and enjoy!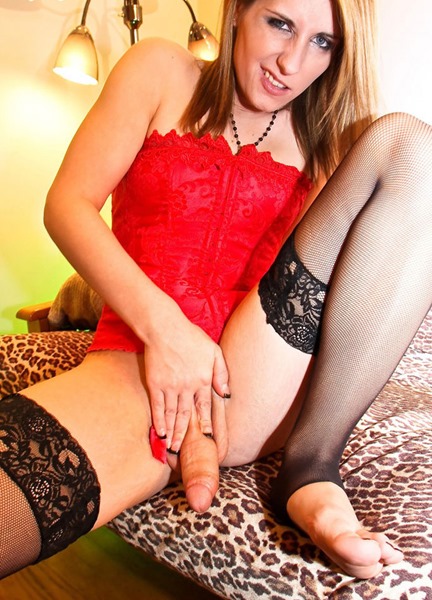 Have fun watching horny Amy stroking her hard dick!